Featured Artist: Luz Gaxiola
This week's featured artist is Luz Gaxiola. Luz has performed with Clowns Without Borders in Greece and Lebanon. Most recently, she delighted attendees of our Virtual Benefit by playing the accordion surrounded by goats. Luz is a multi-instrumentalist, playing accordion, tuba, and trombone. She mixes music with circus comedy to create inventive performances.
Introducing Luz Gaxiola
One of the most iconic photos of Luz is from a 2015 tour to Lesvos Greece. A young girl and the clowns are bouncing on a rubber life raft, transforming it into a trampoline. The girl's face is partially covered by her hair, but her wide smile peeks through. Luz is holding her accordion, also grinning. The photo does not show that the girl, a Syrian refugee, was still damp from crossing the Mytilini Strait. The photo does not show the girl's loss, fear, or the uncertainty of her future. The photo shows her resilience. The photo shows her laughter.
Here's a chance to get to know Luz a little better.
Do you wear a nose when you perform?
I love wearing a clown nose. For people who are culturally familiar with clowning, they see the red nose and it is a signal: That's a clown, it's time to play!
But I don't always wear a red nose, especially if I dont' know much about the situation where I'm performing or if I know I'll be up close and will need to make a soft approach. Not everyone is ready to get into wacky play immediately. Sometimes not having a red nose leads to more flexibility to start with a gentle connection.
What is your favorite clown prop?
My accordion
You can hear the accordion before you see the clown. It evokes a mood and a feeling. A musical instrument is the most efficient way to establish a world.
Traveling with the accordion: you've got to really want to do it. It's heavy and it's delicate. It is definitely hard and sometimes annoying to travel with, but the accordion's sound is so full and it's such a big presence that it's worth it.
The other cool thing about the accordion is that can take you where you need to go. If you show up with an accordion, someone will say, "Hey you with the accordion, come over here." It's like an entrance ticket.
What's a favorite memory from working with CWB?
One night in Lesvos, I went on a walk to the beach. Our day of work was done, we had done three shows. I was just going to the beach by myself to play the accordion and relax. When I got there, rubber boats were landing. It was about sixty people arriving. This was it, their moment of landing. There were a ton of people, and it was a really quiet, delicate moment. I didn't play the accordion. In that moment, it didn't feel right. After everyone was safely off the liferafts and on the beach, people from a Norwegian NGO sprung into action getting people water to drink. I heard them talking making calls to set up bus transport to pick up everyone from the beach and take them to a refugee camp.
All of a sudden, there was a lot of people by the street, standing around and waiting for the bus. I thought, "this is the moment for the accordion." So I walked up with the accordion and people flipped out. They demanded I play and we had a dance party on the street. A lot of the people there were from Afghanistan, and some asked me if I knew any Afghani music, which unfortunately I didn't. So they showed me Afghani folk dances set to Mexican music, Italian tunes, and whatever else I played on the accordion. There was a great feeling of relief, they had just completed the most dangerous part of their journey and it was time to celebrate. They still had a long way to go but arriving safely in Greece was a major milestone. I stayed with them for about an hour until the buses picked up the last people waiting. I don't have any pictures, there is no official Clowns Without Borders documentation, but I think about that night all the time. It started as a moment that wasn't right for play, and then it became the perfect moment for play.
There was a woman who stood next to me while I was played, dancing with me and egging me on. She was about my age, and we connected. It was like we were instant best friends. A few days later, I saw her at the Moria camp and we hugged tightly. I think of her often and wonder where she is now.
What are you currently working on?
I'm really excited about developing a collection of acts that are ready for any circumstances, any weather. I want to make some rain-ready shows. So that's my project, offroad, all-weather clowning!
What's something you learned from another CWB artist?
I learned a lot working with Sabine. Sometimes people think we are diminishing someone's situation by being silly. Sabine really helped me to see firsthand that it's actually the opposite. Choosing to be silly can be an amazingly empowering decision for people living in stressful circumstances. It is a form of defiance to choose to engage in play, and Sabine was so good at showing that.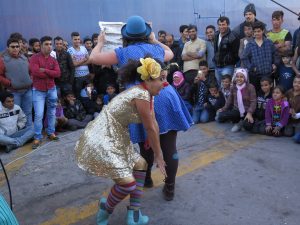 More stories from the CWB clowns!