Because Every Child Deserves to
Laugh
We're a nonprofit that uses live performance to bring joy, laughter, and human connection to global communities in crisis.
Meet Anya in Poland
I am so happy. I don't remember the last time I was this happy.
Anya, 8 years old
Read Anya's Story
Meet Mohammad from Myanmar
Thank you for remembering that we are displaced.
Mohammad, a father in Northern Myanmar
Read Mohammad's Story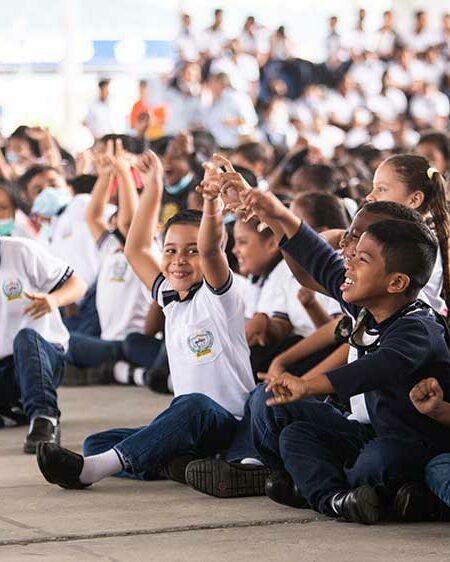 Say Hola to Diego in Ecuador
Come, join us! Laughter is for everyone.
Arturo Gaskins, CWB artist
Read Diego's Story
Slightly Silly Work. Very
Serious

Impact.
From Brazil to South Sudan to Cambodia, we touch the lives of thousands of kids, families and communities every year.
years of site-specific performances for displaced people
professional artists working with us annually
lives changed annually, all around the world
workshops for artists, first responders & aid workers…
…and WAY more laughs than we can count!
We're Not Just Clownin' Around!
Global Artists, Working Together
Our troupe of professional clowns may travel the world — but we never go it alone! To facilitate artistic exchange and amplify local voices, our shows feature talented performers from the countries and communities we serve.
Isn't laughter better together?
Spreading Joy Since 1995
Clowns Without Borders USA is a 501(c)(3) nonprofit that exists for a simple reason: to bring the transformative power of joy to areas of conflict, displacement, and emergency.
We envision a world where kids get to experience contagious laughter and unbridled joy in the very moments they need it most.
Bringing Laughter into Areas of Crisis
When communities are facing hardship and desperately need a laugh, cue the clowns!
To make sure our comedic timing is pitch-perfect, we only go where we're invited. By partnering with local organizations on the ground, we make sure that audience members are in a place to embrace laughter.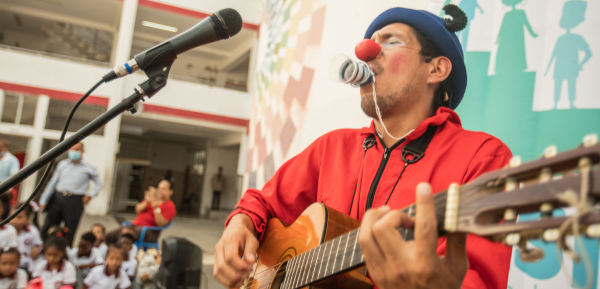 Because Play Is a Human Right
Clowning is serious business! Through live performance, we temporarily transport kids out of their difficult life conditions and into a world of imagination, creativity, and fun.
We can't solve the crisis these kids are facing or erase what they've experienced, but we CAN make one day truly magical — and that matters.
We Partner with Amazing Organizations for
Every

Performance
No funny business here. Before we bring the laughs, we partner with local organizations to make sure that other critical needs — like food, shelter, and medicine — have been met. Let's work together!
Check Out Our Latest Stories