Ukrainian Refugees Co-Create Fun and Entertainment with Clowns in Romania
Ukrainian refugees didn't expect to become part of the clown show.
But that's exactly what happened for many of the 540 people who attended one of 13 CWB shows in Romania, November 2022.
When our Romanian partner, Terres Des Hommes, described their challenge to meet refugee children's needs for play, CWB-USA and CWB-UK came together to produce a tour that blurred the line between performer and audience.
The result? Sometimes the entire audience was on stage!
A Line Ukrainian Refugee Children Actually Want to Join
Adult Ukrainian refugees wait in a lot of lines (read: dull, impersonal) to receive goods and services they need — and their children are often right next to them. Every hour spent in a long line is an hour not spent at play.
Our Romanian partner, Terres Des Hommes, works hard to create fun and personal experiences for refugee children in Romania that "guarantee inclusion and participation."
Of course, we're tickled they asked our clowns to come.
Romania hosts over 86,000 Ukrainian refugees, of which about 28% are children.
The Romania tour consisted of a series of shows with small audience numbers. Some shows had over 40 audience members, others had as few as 11. Our artists, Robin Lara, Arturo Gaskins, Vicky Moraru, and Alexandra Gavris, seized the opportunity to create personal connections.
For example, Vicky shares that there was a moment of dancing with the moms. "It was like each of us had become Beyoncé." Instead of sitting quietly, each mom was strutting her stuff and shaking and laughing and taking a moment to be a queen.
CWB shows aren't just about the clowns "giving something" to the audience. It is also a chance for audience members to make something for each other and for themselves.

Naomi Shafter, Executive Director, Clowns Without Borders USA
---

The following photos were taken by photographer John Rudoff in Bucharest and Brasov Romania, where CWB artists connected with Ukrainian refugees.
At one show, a girl of about 10 hugged me and climbed me as if I were a tree. I could feel how much she missed her papa.
– Arturo Gaskins
Two girls helped me disassemble the cyr wheel with so much love. They had such a desire to help in their every action.
– Arturo Gaskins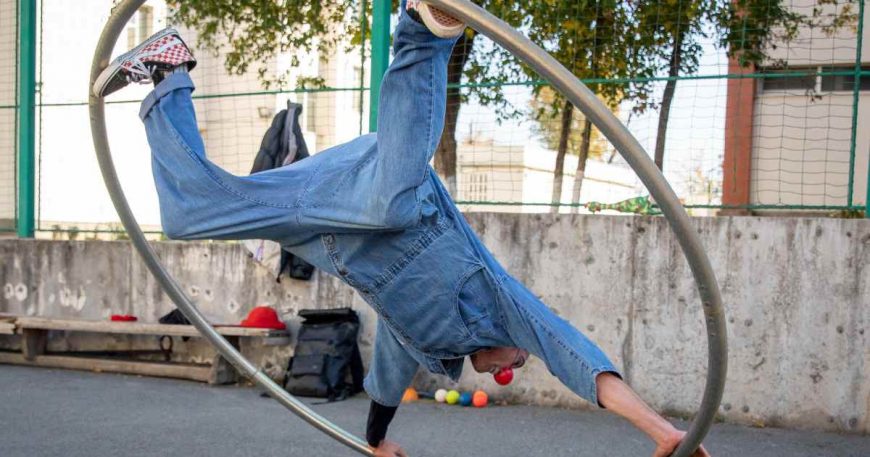 The kids loved that we involved them in the actual show. Their expectation was that it would be them sitting there the whole time like a movie. It was a fun surprise that we interacted with them.
– Robin Lara
A boy told me that his favorite moment of the show was from the beginning to the end.
– Alexandra Gavris
Ukrainian refugee audiences in Romania experienced 13 engaging shows and one workshop produced and performed by CWB artists Robin Lara (United States), Arturo Gaskins (United States), Vicky Moraru (United Kingdom), and Alexandra Gavris (United Kingdom).
Our partner was Terres Des Hommes and Clowns Without Borders UK. John Rudoff was our photographer.
Want to see more fun photos from the tour? Check out the montage below!
More stories from the CWB clowns!