Smile Roundup: Migrant Families Laugh and Cheer in Guatemala (See Photos)
You love to see our clowns performing and our audiences laughing. That's why we're excited to share this first post in our Smile Roundup series. Smile Roundups feature photos of CWB artists with their audiences, plus quotes and stories from the tour. In May 2022, Clowns Without Borders went to Guatemala to support migrant families.
Guatemalan audiences experienced hilarious shows, produced and performed by CWB artists Darina Robles and Lars Uribe. Ricardo Bamaca managed logistics on the ground. Our local partner was UNHCR – Guatemala.
Do you want to know why CWB went to Guatemala? Read on.
Otherwise, jump right to the photos or the video. Guaranteed: You'll be smiling by the end.
Mexico's Other Border: A Critical Place for Migrants
Guatemala's location makes it a main migration corridor to the north, primarily for Central American migrants from El Salvador, Honduras, and Nicaragua, but also for migrants from places like Cuba, Haiti, and Venezuela.
While Guatemala is a place of transit, it is also a place of origin and return. There are internally displaced people (IDPs) responding to organized crime, rural poverty, and agricultural stress related to climate change. And there are migrant families who left Guatemala for the US or Mexico — and were returned.
According to Foreignpolicy.com, the United States and Mexico deported 40,522 Guatemalans via chartered flights between January and August 2022. During the same time period, another 26,557 Guatemalans were deported by bus/on foot.
Returned migrants do not get support from their government and often find that economic conditions have worsened since they left.
Our Clowns Went to the Migrant Capital of Guatemala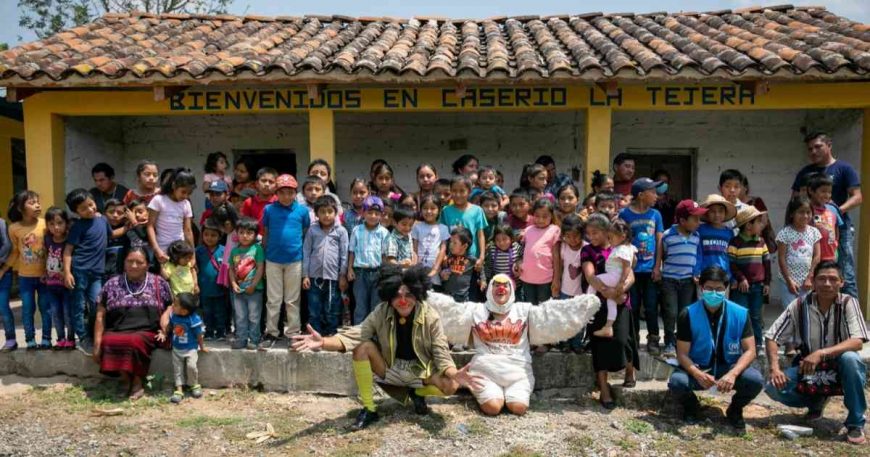 According to UNICEF, half of all Guatemalan children are chronically malnourished. Hunger is especially severe in Huehuetenango, a region suffering years of agricultural losses from drought and a fungus called coffee rust.
The result of the agricultural devastation and hunger is migration. The Huehuetenango region generates the highest number of Guatemalans migrating to the US (and also getting returned from the US).
---
Photographer John Rudoff took the following photos in San Ildefonso Ixtahuacán, Huehuetenango.
The single best moment of my Clowns Without Borders tour is when an Indigenous family walked three hours through the forest to join our clown show. They told us the effort was worth it.

Darina Robles
"I'll never forget when a child from the audience told me, 'When I grow up, I want to be a chicken!' (like me)."
– Darina Robles, aka the Migrant Chicken
After a show, I approached a boy who was serious for most of the performance. I asked him, 'Do you believe in magic?' He replied, 'No, magic doesn't exist!
When I made a handkerchief disappear before his eyes, the boy's face changed to surprise, and a smile lit up his face.
– Lars Uribe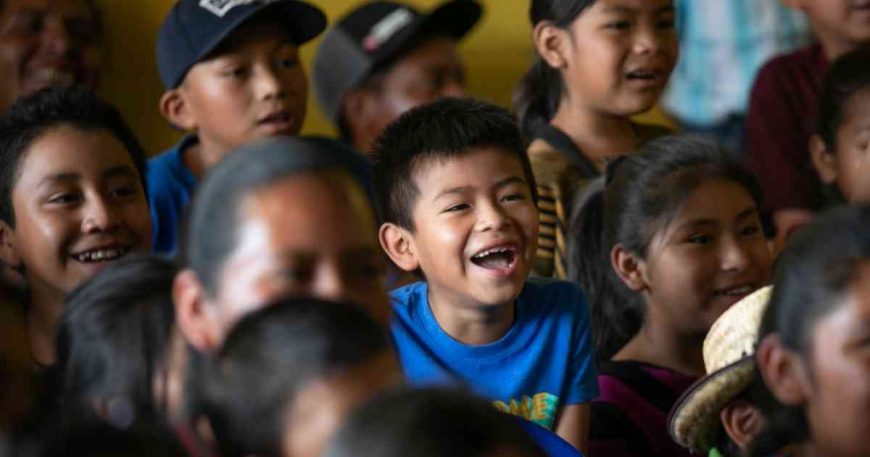 I see great potential in the show to take it to all migration programs in the Petén region, Guatemala.

UNHCR Field Staff
"Thank you for bringing us laughter. The community needed it.
Thank you for being professional and different."
– Grandfather from the audience
In case you're not smiling yet, this photo montage video will make it happen!
More stories from the CWB clowns!