Top Clown Schools in the US (Includes Insider Reviews)
Do you dream of clowning? It's time to take those dreams to the next level with this updated resource of top clown schools in the US.
These opportunities — ranging from drop-in classes to Master of Arts programs — offer creative inspiration, historical perspective, skill development, and valuable feedback to support your path to wearing the red nose.
While there's no right way to become a clown, training completed by Clowns Without Borders (CWB) artists typically includes contemporary circus performance and working in an ensemble. The schools highlighted here celebrate these styles. They also espouse clown qualities we treasure, including vulnerability, authenticity, and presence.
Before we jump into our list of top clown schools in the US, we've got a question for you:
What kind of clown will you be?
Clowntemplation: Questions to Help You Find Your Best-Fit Clown School
"Clown" means something different for everyone.
You may not know what kind of clown you want to be, or what kind of clown school you want to attend. And that's okay.
To get a clearer picture, we encourage you to continue learning about clowning, how it can foster play and connection, and influence culture. This kind of investigation will give you direction, or at least get you asking interesting questions.
Here are five questions you can ask yourself right now to help bring clarity to your school search.
Clown School Clarity:
Get Nosey About Your Clown Type
Why do I want to study clown?
What kind of clowning do I most connect to?
Do I want to perform or am I looking for an outlet to expand my creative horizons?
If I want to perform, am I interested in the stage, party shows, street performances — or some combination?
How much time and money do I want to invest in training?
Wait! What about the Rainbow Wigs and Full Makeup?
If you dream of putting on big shoes and full makeup, definitely check out Mooseburger, Clown Camp, and other listings via the World Clown Association.
You won't find that style of clown taught in the places listed below.
What will you find?
Inspired locations
Talented artist-teachers
Passionate students with whom you can share the journey
Let's do this!
The Funniest Education You'll Ever Get: Top Clown Schools in the US
Dell'Arte International is a school for theater training, research, and performance of the actor-creator.
Carlo Mazzone-Clementi and Jane Hill wanted to share the European traditions of physical theater training with North American artists and performers. So they founded Dell'Arte in 1971. Since then, Dell'Arte International has gained international recognition.
Its School of Physical Theater teaches actors to develop their use of physical spaces, gestures, and movements while approaching stage performance as poetic expression. Instruction guides students to explore and produce creative works.
Offerings
Physical theater education is at the core of Dell'Arte's offerings, which include a Clown Core program, a professional training program, a summer intensive, and a study abroad in Bali. Scholarship opportunities are available.
The campus is replete with studios, gymnastics/acro classrooms, mask construction area, costume shop, theater, amphitheater, as well as an outdoor wilderness space along the Northern Coast of California.
Many Dell'Arte graduates fill the Clowns Without Borders roster.
Learn more at https://dellarte.com/.
"My experience at Dell'Arte kind of blew my mind. I started to understand what it might mean to be an artist and not just an actor. I started to understand my strengths and where I needed to grow."
— CWB Artist Hannah Graff
The Center for Movement Theatre is a large, gorgeous workspace for practitioners, teachers, and trainers.
Dody Disanto instructs students in her physical approach to acting based on the work of the late Jacques Lecoq. Physical theater training compels a student to learn the space — how to use it and body gestures to communicate with maximum clarity and intention for the audience.
At the core of this style of theater is the use of neutral masks.
The Neutral Mask
To best understand neutral mask work, we recommend you sign up for a course. Ha!
A cursory explanation?
Students wear the neutral mask during training. As soon as they don the mask, pupils must be "at the ready" in the words of Dody Disanto. Ready to play, create, and broaden the physical senses.
Lecoq's neutral masks gradually become smaller as the student's theater skills become more refined. Eventually, you'll just wear a clown nose.
Offerings
Dody Disanto teaches a monthly drop-in movement clinic, 5-day summer intensives, a bouffon laboratory, neutral mask, and a dynamic studies class.
The Center is complete with a gym, treatment rooms, and a natural light-filled studio.
Learn more at https://www.thisisthecenter.com/.
Celebration Barn Theater offers intensives in a beautifully restored horse barn in rural Maine. It's a neigh-sayers game-changer.
Tony Montanaro opened the Celebration Barn in 1972, creating a hub for mastering mime, improvisation, storytelling, and other skills that make great performers shine.
Alumni of the Barn have taken the skills they learned there and have gone on to amazing careers in theater, film, and television. Think Sesame Street puppeteers, writers for Between the Lions, and performers with Cirque du Soleil.
Offerings
Come prepared to play!
Participants receive quality instruction from talented teachers and exposure to other exceptional actors. Workshops and residencies focus on collaboration and pushing the artist's creative exploration to the edge.
You can polish your performance at a retreat with Robert Post; try something new with Principles of Eccentric Performing; dive deep into bouffon and mocking; trigger your imagination with Spymonkey's Creating Clown Material.
The Celebration Barn also holds shows on its grounds and features a traveling comedy play.
Learn more at https://celebrationbarn.com/.
Pig Iron is an award-winning theater company, best known for its experimental theater.
Touring with its unconventional in-house productions since 2004, Pig Iron Theatre Company creates unique and challenging performances, trains new artists, and asks tough questions about the world around us.
Offerings
Pig Iron School focuses on performance acting with full-impact creativity. There are seasonal workshops to help actors, students, and professionals develop flexibility, presence, and collaboration skills. The summer sessions tend to be the most clown-focused.
Pig Iron School also offers an MFA/Certificate program in Devised Performance through a partnership with the University of the Arts-Ira Brind School of Theater Arts.
Learn more at https://www.pigiron.org.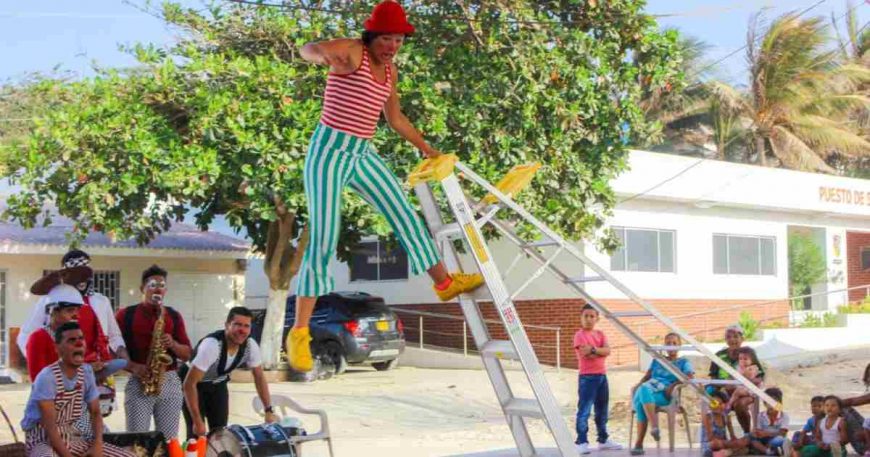 The clown, a pure embodiment of vitality, transports the patient from the confines of the hospital room into a world without limitations.

Zachary Steel, Program Director
USC School of Dramatic Arts is a clown school that believes that medical clowning is transformative and healing.
Medical clowns help patients feel better by reducing stress and boosting emotional well-being. The Medical Clowning Program at USC uses humor to improve the patient experience in local hospitals, and to shape a "healthier humanity." The program has certified 25 undergraduate medical clowns and 10 professional performers.
USC Medical Clowns work outside of hospitals too. They're partnering with The Children's Bureau to provide emotional support to children through support groups, making them the first program in the US to use medical clowning in this therapeutic setting.
Learn more at https://itsc.usc.edu/mc-program/about-medical-clowning-2/.
While it sounds like a fun place to work out, Clown Gym is actually a great place for high-quality actor training in NYC.
It started as a collaborative experiment. It's grown over the years to become one of the city's most reliable sources for connecting artists in a community of experimentation, laughter, and play.
Julia Proctor, Director of Clown Gym, draws on her training with respected instructors such as Christopher Bayes and Philippe Gaulier to help students access their natural creativity and generosity in their acting. She encourages students to connect with their spontaneous impulses and build their skills in a supportive and playful community.
Offerings
Tuesday night drop-in classes are open to all, just register online before actually dropping in. These classes will help you strengthen your existing acting muscles and help you discover others you didn't even know you had.
In addition, Clown Gym offers intensives, bootcamps, mentors, and shows. There's even a monthly "Clown Jam" where you can practice your material with help from an experienced coach.
Learn more at https://www.clowngym.com/.
Ready to unleash your inner clown?
Master teacher Christopher Bayes will guide you to explore new ways of doing, thinking, feeling, and expressing yourself — whether you're a total newbie, a seasoned actor, or a complete clown (pun intended).
Pandemonium classes use rhythm, kinesthetic response, and impulse exercises to help actors develop expression. By unlearning societal filters and listening to your body, you'll unleash playful impulses. The result? Performances that are bold, dynamic, and unforgettable.
The theatre is a live event and dangerous by its very nature. It should be. That is what is thrilling about it. How do we capture that beauty of chaos and the thrill of pandemonium that is so full of life and possibility?

Christopher Bales
Offerings
Pandemonium offers summer intensives, teacher trainings, and classes. Classes titles include Clown for All, Clown, Advanced Clown, Extra Super Advanced Clown (!!), Acting as Play, Shakespeare as Play, and Improv with Ralf!
Learn more at https://www.thepandemoniumstudio.com.
The clown is resilient. Even when it doesn't win, it always survives the experience, and the audience sees that it's possible to go through the fire, to transform, and to thrive.

Adrian Danzig, Clown Program Lead Teacher and Curriculum Creator
If you're looking to hone your foundational circus and performance skills, definitely check out The Actors Gymnasium (AG).
AG's Artistic Director, Sylvia Hernandez-DiStasi, grew up touring with circuses like Ringling Bros and Barnum & Bailey as a second-generation performer. She is also an ensemble member of the Lookingglass Theatre.
AG's leadership and staff have created a community of physical performers who support each other emotionally, physically, and creatively.
Offerings
AG classes are open to people of all ages and all abilities (Yes! Beginners are welcome!).
If you want more structure, check out AG's Professional Circus Training Program. The program has two concentrations: aerobatics and clowning.
The clown concentration is based on Ringling Bros Clown College and includes various disciplines such as circus arts, mime, dance, physical comedy, devising, and object manipulation. The curriculum also focuses on developing skills in clown dramaturgy and direct audience relationships.
Financial aid is available for anyone, with scholarships covering 25% to 95% of the program cost.
Learn more at https://www.actorsgymnasium.org.
9. The Clown School – Los Angeles, California
The Clown School wants your clown to come out and be creative, playful, and fearless.
Using ancient and modern methods to teach clowning, The Clown School pays tribute to everything from indigenous clown rituals to the modern-day circus. They offer unique classes that inspire actors, performers, and comics.
David Bridel and Orlando Pabotoy founded the Clown School in 2007, and presently, David and Mike Funt lead the classes, accompanied by various guest teachers.
We test and examine their capacity to be spontaneous and work in a troupe, and also to allow themselves to make fun of themselves.

David Bridel, Founding Director, The Clown School
Offerings
The exercises and improvisations build skills that are useful on stage, in film, and in life. The students receive individual attention and face targeted challenges, making the classes disciplined, rigorous, and fun.
Learn more at https://www.theclownschool.com.
Get ready for some serious silliness at The Idiot Workshop! Their website proudly declares them as champions of "upholding, nurturing, and catapulting Idiots."
Leading the pack is John Gilkey, a legendary clown, acrobat, and performer with over 35 years of experience in the entertainment industry, including stints with the Pickle Family Circus and Cirque du Soleil.
But here's the twist: The Idiot Workshop ditches the traditional hierarchy and offers an ongoing class structure that prioritizes continued practice and lets students switch things up whenever they want.
Offerings
The Idiot Workshop emphasizes the importance of play, fun, and creativity in the learning process, and its instructors provide individual attention and feedback to their students. The school's courses are suitable for anyone interested in physical comedy and performance, including actors, comedians, and theater students.
In the Intro class, performers learn to improvise organically without following rules or formulas, discovering their own comedic voice. Extra-Idiot classes include Body Brain Smoothie (a movement class), Devising and Idiot Dance, Red Nose Clown, a video-making class, and Acting as Disaster.
Learn more at https://www.theidiotworkshop.com.
Get ready to ignite the stage and unleash your inner artist with Giovanni Fusetti! This rockstar of a teacher and performer brings a holistic approach that blends physicality, emotions, and wild imagination.
With training from prestigious schools and collaborations worldwide, Giovanni has become a renowned teacher, pedagogue, and director. His work in movement-based theater has taken him to numerous countries, where he has shared his expertise with leading theater companies, universities, and schools.
Giovanni's passion for theater as a transformative experience extends to his work with hospital clowns and his exploration of personal healing through the Red Nose Clown.
Offerings
Giovanni Fusetti has an exciting lineup of workshops worldwide in places like Italy, the United States, Australia, and New Zealand. Join him for immersive experiences in Theatre Clown, Physical Comedy, Movement Analysis, Psychological Types, Contemporary Australian Types, Psychodrama, Physical Theatre, and the Pedagogy of Movement Theatre.
Keep an eye on the evolving calendar and join the mailing list for updates on new workshops.
Learn more at https://giovannifusetti.com/workshops.
"Giovanni is skilled at creating ensemble and teaches partner work beautifully. At every opportunity, Giovanni incorporates music into clowning. He structures the class within a professional standard that reminded me of ballet master classes and acting conservatories. He gives his students every ounce of his attention and expects the same in return, which created a hugely gratifying and respectful environment."
— CWB Artist Olivia Lehrman Sblendorio
Conclusion
Finding the right clown school is like finding the right clown nose — it may take a while, but the search is worth it.
How else might we help you on your journey to bring more laughter into the world? Please let us know in the comments.
Also, do you think another clown school program should be on the list? Leave a comment and let us know what we might want to consider adding (and why) for our next update!
Learn more about CWB's 2022 tours.
More stories from the CWB clowns!